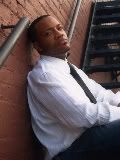 Hello! My name is Brandon H. Allen. I'm a fifth-semester music business major here at Berklee with a concentration on voice. I am also a student employee here in the Office of Summer Programs. I'm blogging here to share some valuable lessons from the 2009 Vocal Summit. If you've never been to a Berklee summer program, you don't know what you're missing! There is a great deal to learn, even if you're not a high school student and have been playing your instrument for years. I realized even though I've been singing all my life and had been here two years, there were still things that I needed to learn, and other things that I needed to hear yet again. It was quite refreshing and it "lit the fire" in me again so to speak. Here are some of the key points I picked up in two classes I was able to sit in on:
Vocals w/ Piano class, with Jerome Kyles
Our teacher Jerome Kyles covered techniques to pull off a great performance when you're accompanying yourself on piano.
How do you get through a performance when you're not at your best?

Don't draw attention to mistakes, act more. Musical theater experience comes in handy here.
Rely on your technique. You have to practice so much that even when you're nervous and go on autopilot, your technique is still intact.

Use your body as well your voice to express the emotion in the song. Movement and stage presence are very important to keeping an audience captivated and engaged. Go line-by-line and extract meaning from everything. When you can capture and express meaning in every line, when it means something to you, even nerves can't get in the way of a moving performance because you're not just singing some song you had to memorize anymore; you're singing a song that's a part of you.
You must use acting skills to pull off a great performance to keep the audience interested, especially for a ballad. Everyone loves a great ballad but they can also put us to sleep if we're not captivated by the performance.
Choosing the right key for your voice for a song is very important. The key must sparkle! This is crucial. Singing a song in an awkward key could completely undermine your performance before you sing your first note.
Your aim should always be to impress—no matter the venue, no matter how many people are watching or listening. Never give anything but your very best, whether it's for a class, for no one, or for thousands of fans.
The song isn't over 'til it's over. Don't let the audience go until you want them to. Never underestimate the power of an intro and an outro. Keep yourself engaged for every note because everything you do on the stage is a part of your performance. When you understand and harness the power you can have over an audience, you'll be at another level.
Background Vocals class, with Jeff Ramsey
What's the objective of a background singer?
Blend. Listen to each other for pitch, vibrato, rhythm, volume, timbre.
Enhance the lead vocalist. Make them sound even better. That's your main focus!
Be able to produce different sounds and textures according to style—e.g., breathy, nasal. The more versatile you are, the better for your career.
Use your ear to hear your part. Get to the point where you know which note in the triad your voice-part usually sings, and be able to find it no matter what song or key.
Movement! Move together as a unit while holding on to your harmony.
Well, that was what I was able to pick up by sitting in only two classes. Imagine all the rest that you could benefit from by going to the Vocal Summit and Stage Performance programs. You can apply for next summer's programs starting November 27!! Until the next blog. . . .
Brandon
Latest posts by Shelly Atwood
(see all)